This past month, we celebrated a momentous occasion as Dr. Kevin Andrews reached an impressive milestone – 30 years of service as an orthodontist to our Northern Nevada community. Dr. Andrews' passion for creating beautiful smiles has touched the lives of countless individuals. With three decades of expertise and unwavering commitment, he has become a true pillar of our community. Join us in applauding Dr. Andrews for his outstanding contributions, as we raise a toast to 30 years of transforming smiles and brightening lives!
Have you heard of our new technology – Dental Monitoring?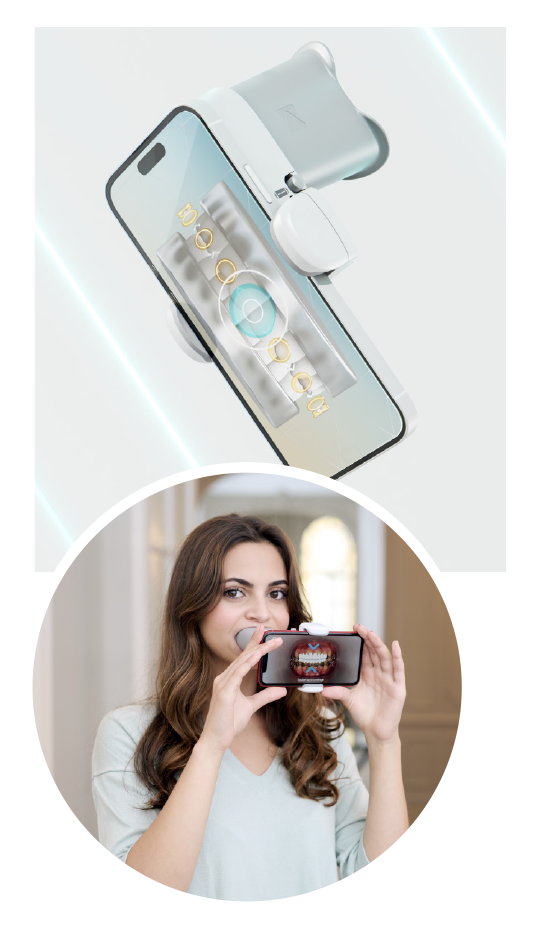 With Dental Monitoring, you, our valued patient, can experience a whole new level of convenience in your orthodontic journey. This innovative technology involves a simple smartphone app and a specialized scanning device that we provide. You can easily take scans of your teeth at home and securely send them to our orthodontic team. This means fewer in-office visits offering flexibility and comfort while improving efficiency. You're in control of your treatment progress, and we're here to guide you every step of the way. Dental monitoring lets you actively participate in your orthodontic care while ensuring your smile continues to shine its brightest. If you are interested in adding Dental Monitoring to your smile journey, let us know at your next appointment.
Check out this quarter's 'Smile of the Seasons'. We want to showcase the radiant transformations of our patients who have successfully completed their orthodontic journey!
Meet the Marvelous Minds Behind Your Smile
Meet Melissa, a familiar face our patients might recognize from our Winnemucca office! Melissa has now brought her expertise and warm smile to our Sparks location as a full-time clinical assistant. With her dedication and experience, she's here to ensure your orthodontic journey is as comfortable and successful as ever.
Meet Irene, she is a shining star who began her journey with us as an extern and quickly became an indispensable part of our A-team. Irene's exceptional work ethic and her genuine, caring personality make her a true asset. Her dedication to patient care is unmatched, and we're thrilled to have her brightening the smiles and lives of our patients every day!
Meet Courtney, the powerhouse behind the scenes! While you might not see her chair-side, she plays a crucial role as our newest lab technician, crafting top-notch orthodontic appliances with precision and care. Courtney recently made the move from vibrant Las Vegas to our Reno community, and we are thrilled to have her talent and dedication enhancing the smiles of our patients in the Biggest Little City!
BEST ORTHODONTIST IN NORTHERN NEVADA
We are thrilled to announce that we've been voted the Best Orthodontist in Northern Nevada by Reno News & Review! This recognition is a testament to our commitment to exceptional orthodontic care and the trust of our wonderful community. Check us out on page 42 of the September issue!
Our practice is dedicated to provide excellence in Orthodontic care, in a friendly and positive environment, where smiles are made and given to one another. We promise to honor our patients and ourselves as we fulfill our commitment.
Unlock Your Best Smile: Dental Tips
As the holidays approach, remember to steer clear of tough nuts, sticky candies, caramel apples, and crunchy snacks to keep your braces and attachments safe and sound!
Have you moved, have a new debit card for your payments, phone number, or new dental insurance? If so, please call to update us as soon as possible! It's important that we have your most updated information on file.
Mon – Thurs 8:15 a.m. – 5 p.m.
Friday 9a.m. – 12 p.m.